In the News
Animal Sanctuary Rehabilitates Deer
August 3, 2008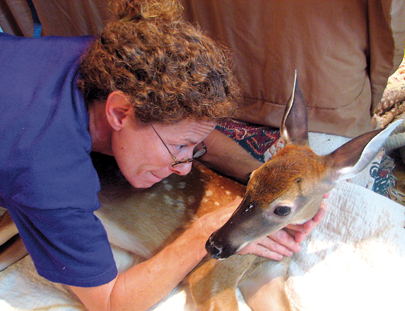 For wild animals like Miss Belle, a white-tailed fawn, an injury doesn't have to be a death sentence.
Thanks to volunteers at S.C. Coastal Animal Rescue and Educational Sanctuary (S.C.-CARES) in Georgetown County, Miss Belle, a 4-month-old fawn, will have the chance to make a full recovery from the neck compressions -- also called "deer whiplash" -- that nearly paralyzed her weeks ago.
"She's a lucky little girl," said Kathy Shoemaker, an S.C.-CARES volunteer who lives next door to the Belle Isle residents who discovered Miss Belle in their fenced-in backyard. Shoemaker said she believes Miss Belle got separated from her mother and could not find her way out of the fence, so she ran into it continuously, causing neck compressions. Cindy Hedrick and Skip Yeager, founders of S.C.-CARES, took in the injured deer about a month ago -- they converted their laundry room into a "deer recovery unit" -- and Miss Belle's made a recovery that Hedrick calls "surprising."
"It's amazing. People were telling us she'd never make it, but she's made almost a full recovery in a month," she said.
But the road to Miss Belle's recovery, Hedrick noted, has not been an easy one. When the fawn came to S.C.-CARES, she could not hold up her head or move any of her legs. Bonnie Bachtell, a one-year sanctuary volunteer, created a harness to lift the weak fawn off the floor. (She's had to modify the prototype, she said, at least a dozen times as Miss Belle grows bigger and stronger.) Yeager uses a harness to support Miss Belle and takes her outside once a day to exercise her legs, and Hedrick bends her joints and massages her muscles using heated oils to prevent stiffness and atrophy. She also feeds Miss Belle from a bottle filled with white grape juice and herbs, while Yeager forages leaves and shrubs for her.
Hedrick also uses Simethicone liquid drops to alleviate the fawn's gas pains and Vitamin E to treat Miss Belle's bedsores. Both conditions, she said, can be fatal to deer trying to recover from neck compressions.
According to Hedrick, Miss Belle has adjusted well to life in her recovery unit.
"She's a sweet animal, and she seems to like the massages," she said.
Once Miss Belle makes a full recovery, she will live in a pen behind the sanctuary with two other rescued deer. She cannot be released back into the wild, Hedrick explained, because she's become too domesticated.
"Now she's imprinted, too trusting of humans," she said. "She'll think all humans are friendly and want to give her food."
Lucky for Miss Belle, it seems she's found a home with exactly the right people.
About S.C.-CARES
S.C.-CARES is a wildlife rescue and rehab center, educational animal sanctuary, environmental center and a 501(c)3 nonprofit public-supported charity located at 236 Abbeville Dr. in Georgetown.
To sponsor Miss Belle or another sanctuary animal, to make a donation or to get more information, call 546-7893 or visit the Web site at www.sc-cares.org.