In the News
Fawn takes sanctuary
August 3, 2008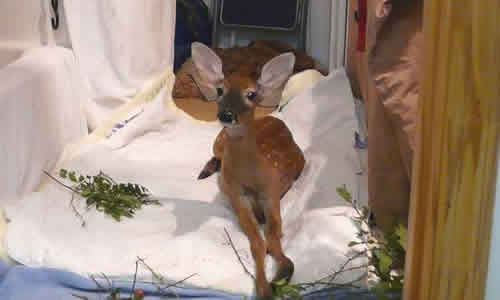 When Bonne Bachtell and Hank Winter arrived at SC C.A.R.E.S. animal sanctuary a couple of months ago for their regular volunteer shift, little did they know that their hobbies and handicraft skills would prove useful for a new resident at the rescue center.
According to Kathy Shoemaker, who also works at SC C.A.R.E.S., they found the injured fawn "Miss Belle" inside a fenced yard in the Belle Isle neighborhood south of Georgetown.
"We believe that the fawn and her mother must have jumped inside the fenced yard to find food," says Shoemaker. "The mother was able to jump back over the fence, but the young deer just threw herself against it repeatedly and severely injured her neck."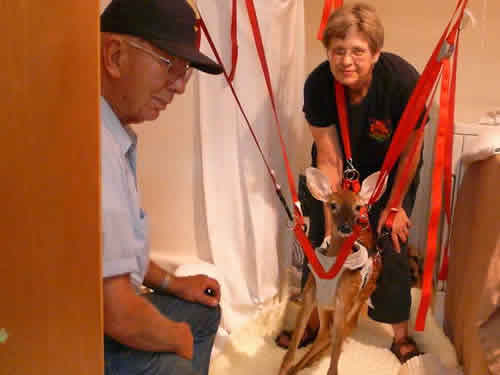 Miss Belle, now three months old, has been at the sanctuary for about nine weeks. To assist in her rehabilitation, Bachtell and Winter devised a sling that lifts the fawn up from her bed several times a day. Activity like this helps prevent bed sores and contributes to muscle strengthening.
In a little more than two months, the deer has doubled in size, now weighing more than 45 pounds. Her habitat during recovery is in the combination bathroom and laundry room of the sanctuary's shelter.
"She's not out of danger yet," continues Shoemaker. "But the veterinarian helping us care for Miss Belle has been pleased with her progress. The sling that Bonne and Hank constructed is helping her get strength back in her legs and this little deer is a trooper."
SC C.A.R.E.S. is open to the public for guided tours by appointment. Donations to support the sanctuary animals are appreciated. For more information , call 546-7893 or go to www.sc-cares.org.