In the News
Reward offered for stolen tortoise
February 17, 2009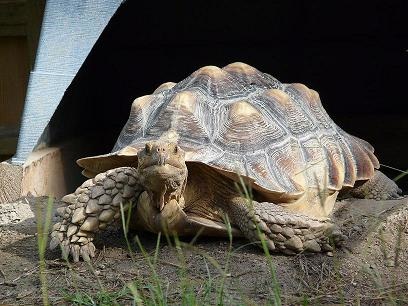 Victoria the tortoise has been a big attraction for visitors of a Georgetown animal sanctuary since it opened.
Now, the 50-pound, seven-year-old Sulcata tortoise is missing and the owners of S.C. Coastal Animal Rescue and Educational Sanctuary (S.C.-CARES) believe she was stolen. A substantial reward is being offered for her safe return.
The exact amount of the reward had not been determined Tuesday.
Cindy Hedrick, who owns the exotic animals shelter with her husband, Skip Yeager in the Choppee community, said the African Sulcata tortoise is 7-years-old and could live to the age of 125 but will die if exposed to cold weather. She is worth as much as $1,000, which is why Hedrick believes she was taken.
Hedrick said she feels the animal may have been taken by some people who were on the property about three weeks ago.
She said four men in a late-model four door champagne-colored car were seen taking a picture of Victoria and the facility. They sped away when they saw Hedrick and another person.
Yeager told a deputy he does not believe Victoria got loose on her own because there was no evidence of a burrow being dug, which is the only way she could have escaped from her fence.
"Time is critical if she is to survive," Yeager said.
The cold weather can be deadly to the tortoise, which cannot be in temperatures below 50 degrees, Hedrick said. She has a little house at the sanctuary that stays around 70 degrees.
"She is special because so many people are amazed by her. To me, she is the last bit of the dinosaur era we have left," Hedrick said. "She has been a very good ambassador for us."
The Sulcata tortoise is surpassed in size only by the giant tortoises of the Galapagos Islands. Sulcatas are active and like to burrow, climb and roam about, often in search of food, according to Internet sites dealing with the tortoise. They are strong animals and have been known to break down fences and even walls.
Yeager also said there is a difference between a tortoise and a turtle.
A turtle spends most of its life in the water. Turtles tend to have webbed feet for swimming.
A tortoise is a land-dweller that eats low-growing shrubs, grasses, and even cactus. Tortoises do not have webbed feet.
"If she is turned over or held in an abnormal position her internal organs may be damaged or stop functioning. She cannot eat 'sweet' foods like apples because the sugars destroy bacteria in her gut that she needs to digest the grasses she needs to be eating," Hedrick said.
"She drinks very little water. She gets her water from the food she eats."
If you have information about Victoria, please call 546-7893, or email skip@sc-cares.org.