In the News
Tortoise to go to sanctuary
February 19, 2009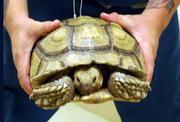 This 20-pound male tortoise, found last week in a North Charleston subdivision, will get a new home at a Georgetown County animal sanctuary whose own tortoise was stolen last weekend.
The African Sulcata tortoise found wandering last week in a North Charleston subdivision will have a new home at a Georgetown County animal sanctuary whose tortoise was stolen recently.
"It's great. That's why we're here, to take animals that have been abandoned," said Skip Yeager, co-founder of the S.C. Coastal Animal Rescue Education Sanctuary in the Choppee community.
At first, officials wondered if the missing Georgetown tortoise might be the one found here, but they ruled that out because the tortoise found in the West View subdivision last Thursday is a 20-pound male, and the Georgetown tortoise, Victoria, weighs 60 pounds. She disappeared last weekend.
The Georgetown County Sheriff's Office is treating Victoria's disappearance as a theft. About three weeks before Victoria vanished, sanctuary co-founder Cindy Hendrick noticed some men at the end of the compound driveway taking photos with a cell phone.
When she approached, the three men sped off in a car. The tortoise could fetch about $650 on the open market, and there is an active trade in the exotic reptiles on the Internet, Yeager said.
"It adds up to theft. What really hurts is it was probably someone who actually came for a tour," Yeager said. The 4-acre sanctuary and nearby grounds were searched thoroughly. "We just don't feel that she is anywhere around," Yeager said.
Victoria came to the sanctuary from a North Carolina pet store when the owner found out it was illegal to sell the tortoise because it was too small and posed a risk of spreading salmonella, he said.
The sanctuary is in the process of raising $10,000 for an 8-foot-tall security fence to prevent future thefts. "We don't want it to look like a prison. This has just become a problem," he said.
North Charleston Animal Control picked up the tortoise found here and took it to the Charleston Animal Society. No one has come forward to claim it, but three people applied to adopt it. The society decided it was best for the tortoise to go to the sanctuary, said Kay Hyman, the shelter's communications director.
It's possible for an escaped tortoise to be missed because they may hibernate underground for weeks, Hyman said. People sometimes buy exotic pets such as tortoises and then decide they can't keep them. The African Sulcata tortoise can grow to 100 pounds and live more than 100 years, she said.
The Sulcata tortoise is surpassed in size only by the giant tortoises of the Galapagos Islands. Sulcatas are active and like to burrow, climb and roam about, often in search of food, according to Internet sites dealing with the tortoise.
They are strong animals and have been known to break down fences and even walls.