In the News
Suffering 'jail' time for animal rescue group
March 26, 2009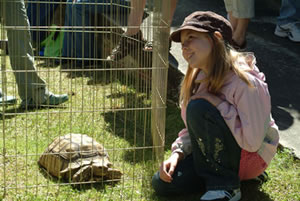 Saturday's fundraiser will help to erect a fence at SC CARES. Pictured, a Canadian visitor enjoys Victor the tortoise, the replacement for Victoria which disappeared from the center last month.
Sheriff Lane Cribb is going to jail.
So is State Rep. Vida Miller.
And they are doing it by choice.
Actually, they are part of a group who will be spending time Saturday trying to "bail out" of a "jail" that will be set up in front of the Hammock Shops in Pawleys Island.
The money they raise will be used to build a fence around the perimeter of SC CARES, the SC Coastal Animal Rescue and Educational Sanctuary in Choppee.
The cost of the fence is about $10,000, said SC CARES board member Bonne Bachtell.
The need for the fence stems from last month's disappearance of Victoria the tortoise from the facility.
It's believed the tortoise was stolen although no suspects have ever been found.
After the alleged theft made statewide news, a replacement tortoise was donated to SC CARES by the Charleston Animal Society.
"We need to keep the animals in and the unwanteds out," Bachtell said.
Others who will participate in the Jail and Bail include:
Local attorney and Georgetown City Councilman Jack Scoville, artist Barbara Bush, local veterinarian Dr. Sheri Duncan, Coastal Carolina University President Dr. David Decenzo, Leslye Beaver and Ava Beaver Doutt of the Beaver Bar in Murrells Inlet and Frank Deihl.
Bachtell said the jailbirds will make phone calls seeking bail money but people can also make donations in person.
Contributions can also be made by PayPal online at www.sc-cares.org.
Update 3/30/2009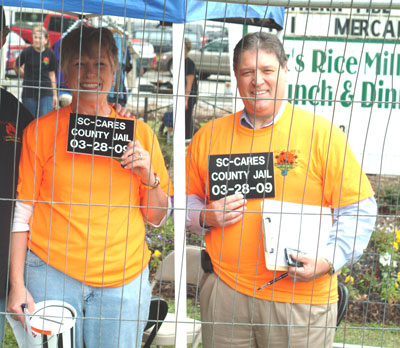 The South Carolina Coastal Animal Rescue and Educational Sanctuary (SC CARES) raised more than $6,000 for a perimeter fence around the facility in Choppee with its Jail and Bail fund-raiser Saturday at The Hammock Shops Village in Pawleys Island. They are still taking donations to reach their goal of $10,000. To donate, visit SC-CARES.org, or call 546-7893. Pictured: S.C. Rep. Vida Miller (D-Pawleys Island) and David DeCenzo, president of Coastal Carolina University, inside the "jail."